Buy or Invest in Switzerland
Ref: 00101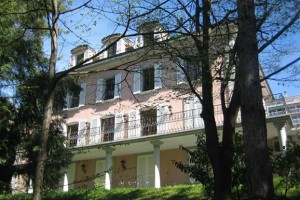 Description
Situated near the centre of Geneva, nestling in a haven of peace surrounded by a large wooded plot, this elegant town house offers a surface area of around 750m² on four floors.
Currently used as offices, it could be transformed into a prestigious home and would also be suitable for an embassy. A project for its transformation into high-end offices is available.
The harmonious design and layout of the different floors and rooms is in perfect keeping with the high-class materials used in its construction. The building has a lift serving all floors.
There are also two large garages and a private parking.
Ref: 00102
Description:
A newly built aparthotel in the center of Geneva
This modern apartment hotel just completed is located in the centre of Geneva, Switzerland, this luxury apart hotel has 25 apartments, a total of 1550m2, and large offices space of 360m2, and a modern underground parking place. The whole building has a total of seven floors.
Each room is a different size, respectively. It is designed and built with plenty of natural light and ventilation environmental philosophy. The apartments were all fitted with Italian-style shower and bathtub, sink, a modern, fully equipped kitchen and a large enough space.
Each kitchen has high quality equipments: refrigerator, cookware,microwave. the apartments have energy saving exhaust systems, also equipped with inlaid closet. which is also environmentally friendly materials used.
Entire apartment building is equipped with very efficient ventilation and room temperature control system and with floor heating.
All apartments also have an automatic control system which is continuous eSmart system keeping indoor air fresh, constant temperature, and heating, electricity saving.
All apartments are supplied with WIFI and TV network.
The whole building contains a total of seven floors, with each room facing south and east built so that adequate lighting. The first floor is commercial and administrative area, from the second floor till the fifth floor is the apart hotel (each floor is 277 square meters, and 233 square meters respectively), 6,7 floor is residential, there are 14 parking spaces in the underground garage, and the building contains an modern, large elevator and stairs.
Ref: 00103
Ref: 00106
Description:
Castle Hotel VA-4 stars
The ancient castle hotel is located in Canton de Vaud, Switzerland, in a quiet and beautiful town. It's one hour 15 minutes drive from airport of Geneva. It has 20 rooms, an area of 20,000 M2. The Hotel has a big conference room holding more than 100 people, and 50 seats' bar and restaurant, and two underground cellar and a big parking space for 50 cars, a barn, horses stables.
This Castle was built in the 13th century, very well preserved, its staircase and round tower were built in 1592. They were built by the aristocratic family Von Wattenwyl Bindnemmer.  Later, a loft, oven, wine cellar, a wine and barn and  the factory plant was built in 1738.
Three years ago this castle was renovated completely, and became  a 4-star hotel.
It is  not only a good place for holidays but also for business conferences and celebration events.
Ref: 00107
Ref: 00108
Description
Hotel MS – 3 stars
Hotel MS is located in a nice small town, 20 minutes drive from Lausanne, Switzerland. The hotel covering 851 square flat  meters, with volume 7013 m3.
The Hotel has three floor, ground floor, first floor and underground floor . From this modern style, 3-star hotel we can have a panoramic view of the Jura mountains. She has 39 rooms, a super Bar Restaurant and with a fireplace in the big bar, a conference rooms, and so on. Hotel is situated in the center of town. From hotel to the tennis course, mini golf and swimming pool it's just 5 minutes away. It offers free Wi-Fi too.
The hotel was built in 1989, it has 39 rooms, with single, double and multi bed rooms. Every room is modern with a some satellite TV, minibar, safe and hair dryer. From 19 rooms there is the Jura mountain view !
This is a 3 star hotel. The hotel has free private parking place. It is only 700 meters from the highway.